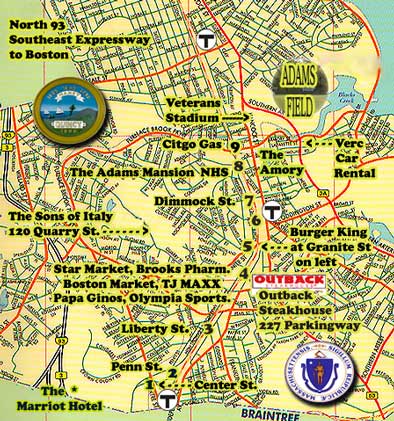 From The Marriott Hotel. 1000 Crown Colony dr.
Bear RIGHT as you come out of the Complex.
Turn LEFT at the set of lights (BURGIN PARKWAY) and follow the directions to ADAMS FIELD. IF you turn right you will go to the Expressway North and South.
---
Take the BURGIN PARKWAY /QUINCY CENTER/ T, EXIT off Route 3 North OR South.
These exits will be either Exit 18 heading South, or Exit 19 heading North.
BURGIN PARKWAY runs parallell to the T tracks. You will GO THROUGH 9 SETS OF LIGHTS.
<1>.The 1st set is Centre St, at the bottom of the ramp. It is near a gravestone shop, Lincoln Granite on the left(L), and the Quincy Adams T Station on your right(R)
<2>.The 2nd set is near Aslanis Seafood(L).
<3>.The 3rd set is near Bay State Equipment Rental(L).
<4>.The 4th set of lights is at Star Mkt. Brook's Drugs, and Boston Chicken, Olympic Sports, etc. (L).
<5>. The 5th set is at Granite St.near Burger King.(L)
<6>. The 6th set is a 'blinking' light near the Quincy Center T Station.(R)
<7> The 7th set of lights is Dimmock St.
<8>. The 8th set of lights is Adams St. THE ADAMS MANSION HISTORICAL SIGHT is on your (L).
<9>. The 9th (FINALLY) set of lights is Furnace Brook Parkway about 60 yds. away. A CITGO GAS STATION will be on your left.

TURN RIGHT onto Furnace Brook Parkway, (GO UNDER THE T BRIDGE) to the next set of lights. This is Hancock St. The Armory will be facing you on your(R), TURN LEFT!! onto Hancock St. Veterans Memorial Stadium is located about 1/4 mile down Hancock St. on your RIGHT. Just past the MBTA's Bus Garage. Park anywhere along Hancock St.

For Adams Field go to your NEXT set of lights.
A VERC Car rental shop will be on your (R).
Turn LEFT and ADAMS FIELD is about 200 yards up on your right. This is also a back way to VETERANS MEMORIAL STADIUM.